Exhibition Time: October 16-23, 2019
Address: Düsseldorf International Exhibition Center, Germany
Jiangsu SuperPEEK Booth Number: 7.2 G09
2019 K-Show in Germany is around the corner.
This exhibition is large, influential and cool.
ChinaPEEK will also attend this exhibition.
Here we are.
Düsseldorf International Exhibition Center, Germany
Jiangsu SuperPEEK/JUNHUA chinaPEEK Position Number
The Düsseldorf International Plastics and Rubber Exhibition (K-Show) is a global plastics and rubber industry exhibition. Every three years, K Exhibition has become the best trading platform for equipment and technology in the entire plastics industry.
The K-show will be held from October 16th to 23rd, 2019 at the International Exhibition Center in Düsseldorf, Germany. More than 3,000 exhibitors from more than 60 countries will be gathered here, which is expected to attract more than 200,000 professional visitors came to visit.
Visiting the K-Shown is the best way to gain insight into the needs of the international market and anticipate the future of the industry, and provide trade opportunities for the first entry into emerging markets around the world.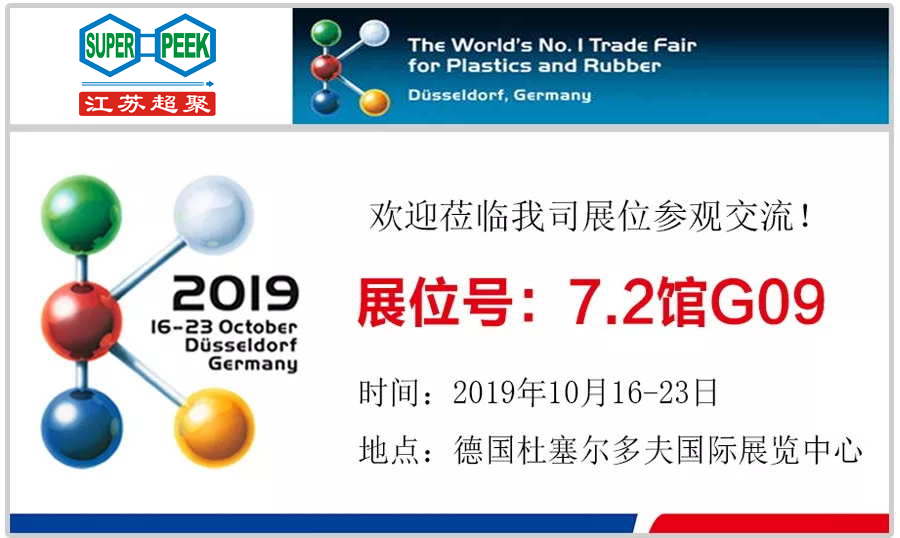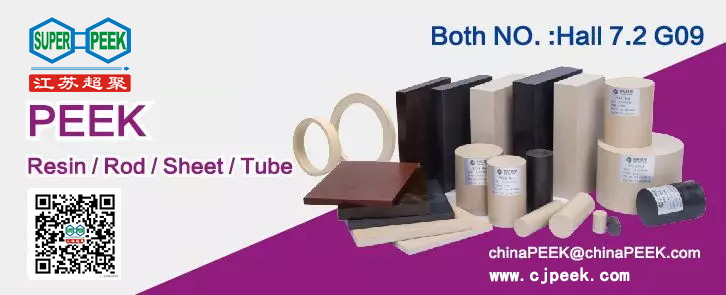 Relying on the experience of PEEK R&D and production in the past 12 years, Jiangsu SuperPEEK has become a full-industry chain company that combines the research and development, production and sales of PEEK resin raw material polymerization, PEEK sheet, rod, tube and other continuous extrusion molding and finished parts. With this opportunity, we will bring you more amazing material innovations and applications.
This time, Jiangsu SuperPEEK sent a team of technical elites and sales elites to meet you at the 7.2 G09 in Germany. At that time, our staff will provide patient and meticulous answers based on product characteristics and customer needs.

This time we are ready to come back to our reputation!
At the K-Show, Jiangsu SuperPEEK will display PEEK raw materials, PEEK sheet, rod, tube and other finished parts. Such as: PEEK sheet and rod: 1250mm wide continuous extrusion PEEK sheet, PEEK rod, PEEK thick wall tube, PEEK thin wall tube, PEEK capillary, PI sheet, continuous carbon fiber CF/PEEK composite sheet.
1
[1250mm PEEK sheet extrusion line]
2
[Continuous Carbon Fiber CF/PEEK Composite Sheet、PPSU Rod]
3
[PI raw materials /Sheets/Rods ]
4
[PPSU Sheets and Rods]
Thanks to all the new and old customers for their attention and support to Jiangsu SuperPEEK. For more information on products and technical solutions for special engineering plastics such as PEEK, please come to our booth.